Se acerca la 6ª edición del BCustomer & Employee Week y el panel de ponentes, como cada año, es de lujo. Ya tenemos la agenda al completo, así que aquí puedes ver los profesionales que nos van a acompañar este año con ponencias y entrevistas:

Día 7 – Customer Service – De 17:00 a 19:00
Enrique Rodríguez, Head of Contact Center. Grupo Telepizza
Jesús María Rodríguez, CS Manager. Danone
Cristina López, Head Of Digital & Social Media CS. Naturgy
Laura Obeso, Responsable de Customer Experience. Arval
Día 8 – Customer Experience – De 17:00 a 19:00
Sergio Feo, Director Customer Experience. Pibank
Silvia Chiva, Customer Service & Quality Global Director. Leaseplan
Guillermo Calderón, Director Experiencia Cliente y Distribuidor. Generali
Marta Bazaco, Global CX Program Manager y David Estrada, CX Intelligence & Analytics Senior Manager. Schneider Electric
Día 9 – Employee Experience – De 17:00 a 19:00
Beatriz Ortega, Head of Employee Experience WEB. Liberty Seguros
Christian Fernández, Director Personas y Cultura. Andorra Telecom
Esther Poza, Gerente Experiencia Empleado y Employer Branding. Repsol
Andrés Bianchi, Global HR Transformation Director. Grupo Santander
Día 10 – IT & RPA – De 17:00 a 19:00
Ricardo Calvo, Director General de Clientes. Multiasistencia
Sergio Peinado, Transformación Digital y Análisis del Dato. Correos
Alberto del Sol, Director Marketing & Innovation. Vodafone Business
Javier de Ramón, Director Digital. Equivalenza.
Día 11 – Inspiration Day – De 12:00 a 14:00
Carlos Mascías, Director Médico. Hospital Universitario HM Torrelodones
Fernando Trías de Bes, Economista y escritor. Experto en Marketing, Innovación y Nuevos Modelos de Negocio.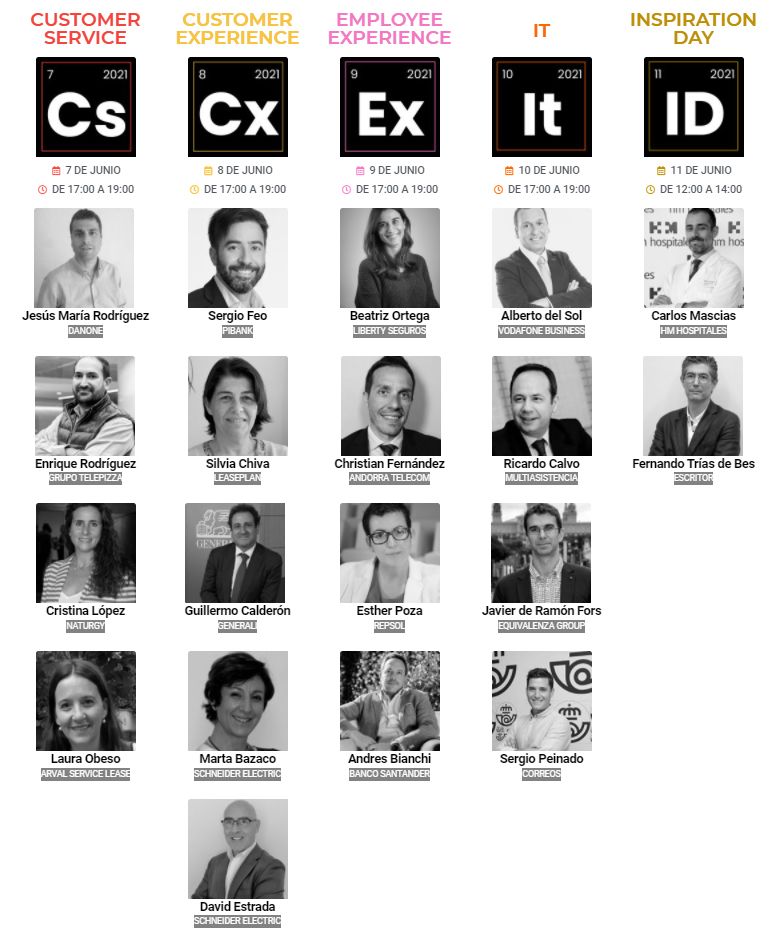 Si queréis conocer más información sobre cada uno de ellos, podéis encontrarla desde aquí.
? Este año el tema del congreso es "La química de la experiencia", buscamos una transformación en las relaciones de la marca con los clientes y empleados, una fórmula que nos ayude a captar, fidelizar al talento y a los clientes. A la vez que nos proporcione esa química, esa conexión emocional y engagement tan apreciado por todos.
Aún estáis a tiempo para registraros en los días que más os interesen por temática, así que no dudéis en hacerlo de forma gratuita desde aquí: Registro Congreso BC&EW